Dutch professor invents robot that collect eggs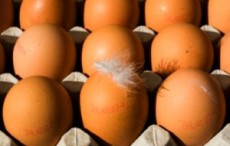 Dutch robotics expert Professor Edvert van Henten from Wageningen University is developing a robot that will help egg producers help put a stop to wasted eggs. "The hens have to lay their eggs in nests, but 30% are laid on the floor. They cannot be sold as quality eggs and encourage other chickens to lay there as well so the farmers have to collect them by walking through twice a day, which is challenging."
The technology is not yet available, and much like milking machines in the dairy industry, much needs to be done to make them commercially available," says Van Henten.
Why is there a feather on the eggs in this picture some North Americans readers may wonder. Because the rest of the world believes in the natural protective coating placed on eggs by hens and that washing them straight out the chicken forces North Americans to wash and then refrigerate their eggs, which has been proven to be more susceptible to bacteria.
(Link: www.abc.net.au)
No Comments »
No comments yet.