Design popcorn machine is fun to watch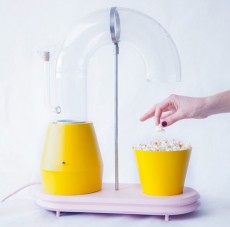 The Popcorn Monsoon by Dutch designer Jolene Carlier consists of a pair of small yellow bowls placed on a wooden base: one heats to pop the corn while the other collects it, a design inspired by the 1971 film 'Willy Wonka and the Chocolate Factory'. A curving glass tube fixed to the larger of the two receptacles delivers the popped corn into the small serving bowl.
Popcorn is a blast to listen to when it's being made, or maybe that's just because I still make it on the oven and the sound is the only thing to guide you. I had a twentysomething person over once who had never seen popcorn made on the oven before, as he thought it could only be made in a microwave.
I like this design a lot, with the exception of the popcorn flying out of the bowl.
(Link: www.dezeen.com)
No Comments »
No comments yet.