Dutch porn filmed at Belgian university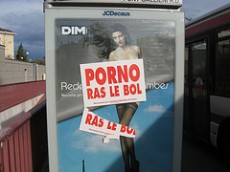 On a Dutch porn site Belgian journalists spotted a Dutch porno filmed at the University of Antwerpen with a Flemish girl in the lead as a student called Cloe who meets up with a cameraman and then gets down to business. The journalists passed on the tip to the university who says they are going to try and sue the people who made the film for hurting their reputation. The university campus of Groenenborger is clearly shown in the film as is the institution's logo.
The site apparently indicates that Dutch porn queen Kim Holland could be involved, but that remains to be seen.
(Links: nos.nl, www.standaard.be, Photo of Anti-porn poster by fidelramos, some rights reserved)
No Comments »
No comments yet.