Questionable Dutch Kickstarter projects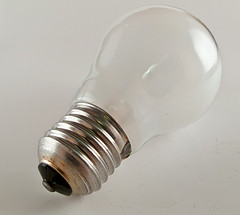 Of course, there are some amazing ideas floating around in the Netherlands, but there will always be some 'non-starters' because anybody can ask for money for anything. Just the spelling mistakes are like bushwhacking through a forest of flies. Here is a small selection of Kickstarter projects that make you wonder:
– A workshop space only for men and 'males', but freely using the world 'everybody'.
Half blind boy.
– A female-fronted metal album because just a band would mean it was 'male' and automatically good.
How to hit the wrong chord.
– A self-cleaning shower cabin – I want to believe!
'Only a man would come up a way not to clean' cliché.
– An app that shows you all the places Michael Jackson has been. Are you LOL, too?
Give me Elvis instead.
– Someone is building a TARDIS!
This could actually be pretty cool.
(Link: www.kickstarter.com/discover/countries/NL, photo of a lightbulb by Emil Kabanov, some rights reserved)
No Comments »
No comments yet.