First ever Dutch Comic Con: many supporting actors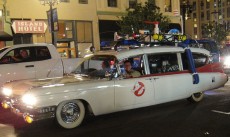 On 28 and 29 March, the Jaarbeurs in Utrecht will play host to the first ever Dutch Comic Con, which promises to be a proper cheesy nerd fest full of sci-fi, cosplay and meet & greets with famous supporting actors. The big names will be Ernie Hudson who played Winston Zeddemore in the original Ghostbusters film and the Ecto 1 vehicle, as well as a bunch of supporting actors from series and movies that most of us have to look up.
Ivan Lok, owner of Comic Toys, a site that has been pulled offline and associated with theft and bad behaviour by many online, is the organiser of Dutch Comic Con, but don't let that stop you from enjoying a lot of comics. A weekend admission presale ticket costs 30 euro and if you want to have your picture taken with Ecto 1, it will cost you 40 euro, while an Ernie Hudson signature will cost you 25 euro.
(Links: www.vice.com, www.retecool.com, Photo: Photo of Ecto 1 by Jappalang, some rights reserved)
No Comments »
No comments yet.