Cat cafe to open in Amsterdam this month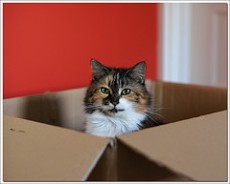 The idea of a cat café started in Taiwan in 1998 and got big in Japan, New York City, London, Paris, Berlin, and Copenhagen. This month it's Amsterdam's turn to have a cat café that will open on 22 April.
Amsterdam already has quite a few cats in their establishments to catch mice, but following international trends, it was a matter of time before the capital got an official hangout overrun with furry friends, which amusingly enough is not too far from 24oranges HQ.
The entire idea was crowdfunded with 975 cat lovers contributing 33,000 euro to the project.
(Link: www.nu.nl, Photo of Cat in a box by Hehaden, some rights reserved)
No Comments »
No comments yet.