Magnetic suspension makes for levitating lamp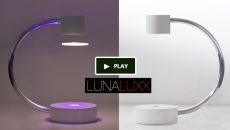 The Lunaluxx lamp is an atmospheric lamp that is sure to replace any centrepiece or help start any dinner conversation. "By combining both magnetic suspension and remote-phosphor lightning technologies, a light emitting disc is freely suspended in mid air."
The levitating disc looks like a little spaceship, and once it's in place, the light comes on. The Lunaluxx is easy to turn on and off, although I don't know what one does with the disc when the light is turned off, as that requires making sure a human or animal doesn't make off with it or misplace it.
It does look great and original, designed by Elivatix in Eindhoven, a hotbed of Dutch design and lamps.
(Link: nieuws.nl, Screenshot: Kickstarter)
No Comments »
No comments yet.