Phototrope shirt for running at night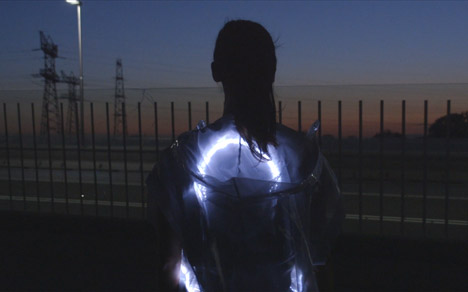 Developed based on her own experience running in Amsterdam, which when it's dark makes you feel like the frog in the old video game Frogger, Dutch designer Pauline van Dongen has created a phototrope shirt using LEDs and foil, designed to improve safety for runners. It is made from technical jersey embedded with washable strips of the low-energy lights and sections of reflective 'prismatic' foil material that curve around the body.
Most runners including myself tend to use flashing bicycle lights or bits of clothing with reflective material, but none of it illuminates anywhere near as well or looks as cool as Van Dongen's garment. She wanted to create a design that felt more like a garment a runner would wear regardless of the safety aspects, as runners need to be comfortable, and dangling lights or bracelets are not the way to go.
The jersey is still a prototype, but I already want one. Find out more about Van Dongen's ideas with the use of a cardigan that helps with patient rehabilitation.
(Link and photo: www.dezeen.com)
No Comments »
No comments yet.