Bosch your photos, there's an app for that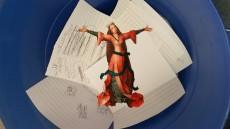 Making the rounds since last fall and distributed by Dutch company No Strings, the Bosch camera app lets you add some Hieronymus Bosch characters to your pictures. I gave it a quick spin with my paper bin (see pic) and it is fun and easy to use.
"Bosch camera reanimates 500 year-old creatures and people taken from the paintings of Bosch. A stroll in the woods or a visit to the local supermarket could turn in an awesome adventure."
It's Bosch's famous characters that keep so many people intrigued, even to the point of deciphering buttock music from the famous painting 'The Garden of Earthly Delights', which is currently the object of feuding Spanish museums.
No Comments »
No comments yet.