Dutch singer voted worst dressed at Eurovision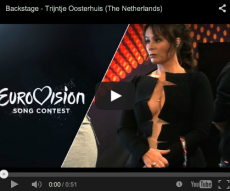 After failing to make it to the semi-finals, Dutch singer Trijntje Oosterhuis did scoop up a Eurovision-related prize (not 'price' dear award people) in the end: the 2015 Barbara Dex Award for the worst dressed.
"She surprised the Eurovision audience with a navel-deep cleavage during the rehearsals, but then changed into a parachute-like suit. She gained 1324 votes. Number two was Serbia's Bojana Stamenov with 605 votes. The top three is concluded with the UK's 20's couple Electro Velvet with just 397 votes. A record-breaking total of 4163 votes were cast this year."
The cleavage dress was original, but detracted from her actual singing talent, a choice that could have gone either way. However, the black parachute of death she wore in the end also detracted from her talent. There's no lack of design talent in the Netherlands, which makes one wonder why these wardrobe choices were made.
(Link: www.telegraaf.nl, screenshot YouTube)