Students repurpose fruit and veg for designer products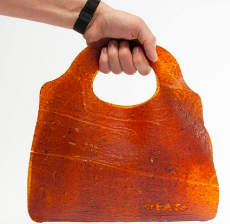 A group of students at the Willem de Kooning Academy in Rotterdam is currently working on making leather out of fruit and possibly vegetables for their graduation. The 'Fruitleather' project claims to deal with 'one of Rotterdam's biggest social issues, food waste'.
The group claims that market sellers in and around Rotterdam throw away approximately 3500 kilos of rotten or other unsellable fruits and vegetables on a daily basis. The goal of the project is to repurpose all that food that isn't trash in their view by producing large-scale amounts of fruit leather and turning them into different products.
Do the products smell of fruit? Won't they be eaten by bugs or animals? How sturdy are they? What about actual vegetables? It would be nice to know more.
(Link and photo: fruitleather-rotterdam.com)
No Comments »
No comments yet.