New type of orchid discovered on an island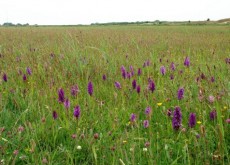 Last June a new type of orchid was discovered in the Netherlands on the island of Schiermonnikoog by orchid expert Hans Dekker who spotted it just in time to add it to his book on orchids in the Northern Netherlands published recently.
The orchid in question is the Dactylorhiza purpurella that usually grows in European coastal regions in the United Kingdom and Scandinavia. It's surprising to the experts why nobody saw this orchid before, maybe it simply hadn't been noticed according to some.
(Link: natuurbericht.nl, Photo: Hans Dekker)
No Comments »
No comments yet.