Dutch engineers create huge artificial waves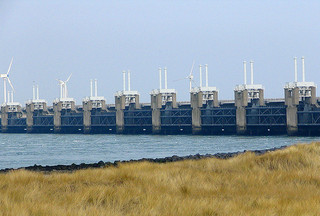 Engineers at Deltares Research Institute, an independent institute for applied research in water and subsurface near Delft, South Holland are claiming to have created the largest artificial waves in the world.
Created in a huge concrete tank called the Delta Flume, the waves measure five metres high. The engineers say they can get even bigger waves. The tank holds nine million litres of water, pumped in from a reservoir at 1,000 litres a second. This new facility cost 26 million euro and took two years to build.
What's the actual use of this facility? To be able to create waves to test life-size water defences. We're always told that two-thirds of the Netherlands could be flooded, and back in 1953 it was heavily flooded, making water defences essential. Generating bigger waves is the only way to find out if flood defences can cope with rising tides.
(Link: www.bbc.com, Photo of Delta Works by Coanri/Rita, some rights reserved)
No Comments »
No comments yet.