Van Nelle in Rotterdam gets its own coin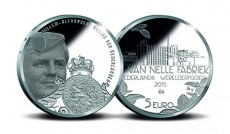 Former coffee, tea and tobacco factory Van Nelle in Rotterdam is getting its own coin, the fourth in the Dutch UNESCO coin series. The factory is also the 10th Dutch site to be included on the UNESCO World Heritage List, a list that also includes Utrecht's Rietveld Schröder House and the Kinderdijk windmills in South Holland.
British-Dutch designer Kianoosh Motallebi was inspired by the building's characteristic style and the goods it traded. Acclaimed architect and photographer duo Robertson and Yerbury called it 'a poem in steel and glass', while Swiss-French architect Le Corbusier once praised its 'purity and uncompromising clarity'.
Three different versions of the coin are available, a Proof .900 fine gold €10 coin (1,500 coins), a Proof .925 fine sterling silver €5 coin (12,500 coins, shown here) and a Brilliant Uncirculated silver-plated copper €5 coin (250,000 coins). The coin features King Willem Alexander on one side and the factory on the other.
If you travel by train to Rotterdam from Amsterdam or Leiden, you can see the factory on your left, on the Delfshavense Schie waterway.
(Links and photo: www.coinworld.com, www.vannellefabriek.com)
No Comments »
No comments yet.