Curious mushroom makes a welcome comeback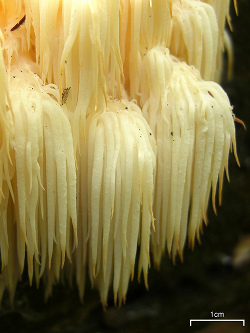 After years of having disappeared, the Hericium erinaceus also known as Lion's mane (in Dutch 'pruikzwam', literally 'wig mushroom') has made a much appreciated comeback for mycologists and mushroom fans alike on a beech in the woods of de Velhorst in the province of Gelderland.
Lion's mane is apparently edible and taste like seafood, has several medicinal properties, grows on many continents and is a rare treat to find. According to Wikipedia it is also known in English under other names such as Bearded Tooth Mushroom, Satyr's Beard, Bearded Hedgehog Mushroom, pom pom mushroom, or Bearded Tooth Fungus, none of which have to do with wigs.
(Links: natuurbericht.nl, mushroom-appreciation.com, Photo of Lion's mane mushroom by Jason Hollinger, some rights reserved)
No Comments »
No comments yet.