PostNL wants to play neighbourhood watch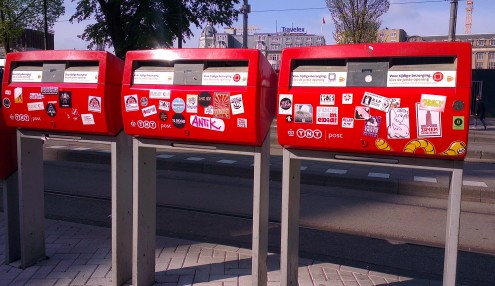 Postal workers in the Netherlands don't have it easy. Over the years, they've been sacked in the thousands and have seen their wages dwindle as they went from proper employees to 'forced freelancers', giving PostNL reasons to pay them less than minimum wage, but still dictating their terms. Postal workers are students, pensioners and moms who work part-time on bikes delivering mail and are the opposite of the unionized postmen of yesteryear.
If making sure they were at the bottom rung of the employment ladder wasn't enough, their monopolistic employer client PostNL announced that postal workers could also act as neighbourhood cops and report irregularities to the city like bad behaviour, dog poop and trash out on the wrong day. PostNL would probably ask the city for money to do the city's job and the postal workers would probably have more to do without it being reflected in their earnings. The city of Schiedam is apparently giving this a go until half December to see if it really makes a difference.
Postal workers are to send pics of the offending people, dog poop or bins to the city using their mobile phone with a 'special app'. What if they refused to do it or just claim they never see anything wrong and get a bit more money for doing their work? They are freelancers after all, but freelancers with no freedom to negotiate terms. Citizens are already able to report irregularities in their neighbourhood, so why get postal workers to do what citizens already do gladly for free? Because PostNL wants to make even more money off the city and can do so while looking like they care about dog poop. I also don't picture too many people intervening in case of violence: they'll more likely be a target than anything else and it's not their 'job'.
Blogger Luuk Koleman asks why not get the neighbourhood cops to deliver the mail while they do their rounds? That's because being a neighbourhood cop is an actual job with a salary and a collective labour agreement.
No Comments »
No comments yet.