Stainless steel 3D printed bicycle comes to life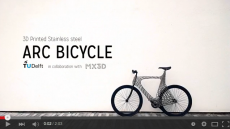 A team of students from Delft University of Technology have designed and produced a fully functional 3D printed stainless steel bicycle. It looks like a robot did some heavy metal basket weaving.
At the beginning, we noticed the project was being welded at MX3D in Amsterdam, the folks working on a 3D printed steel bridge.
The Arc Bicycle is apparently the first ever 3D printed metal bicycle to be produced using a welding process.
(Link: www.bright.nl, Screenshot: YouTube video by Arc Bicycle)
No Comments »
No comments yet.