King's Day 2016 in Amsterdam through the lens of René Louman's camera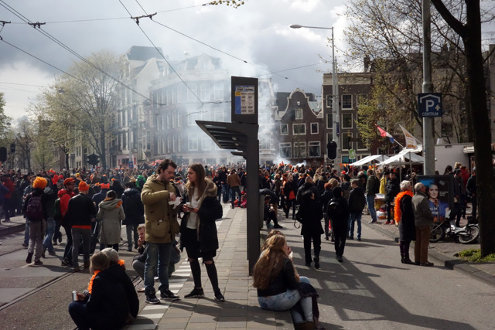 Rain and wind disrupted this year's King's Day. The rain largely passed by Amsterdam, but it was still cold enough that visitors had to dress warmer than usual.
Amsterdam-based photographer René Louman took to the streets and captured the rainy streets of the day before, the King's Day Eve concert of the Amsterdam Klezmer Band and the King's Day festivities in the city. He also has a good comparison of how busy it was last year and how quiet this year.
Telegraaf speculates that the weather kept many people indoors. Last year's daytime broadcast of the royal visit to Dordrecht drew 2.5 million viewers, this year's broadcast of King Willem-Alexander's visit to Zwolle had 3.4 million viewers.
Like every year Orangemaster and I went to the area around Apollolaan in Amsterdam to look for good deals on the nationwide flea market. I managed to score a camera bag for 2 euro that still had a camera in it!
(Photo: René Louman)