John Cleese opens Silly Walks tunnel in Eindhoven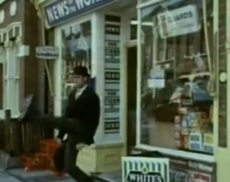 Hundreds of fans of British comedy legend John Cleese huddled in the cold today to greet the man who played a bowler hatted civil servant working for the The Ministry of Silly Walks. Handshakes and autographs were handed out by the 76-year-old actor, invited by Studio Giftig to officially open the renovated Dommel tunnel where graffiti artists have painted all kinds of references to the famous Monty Python sketch.
Cleese showed up in some sort of Australian slippers with no socks, having said that nobody would show up to such a 'meaningless event', but he was apparently surprised by all the fuss. Cleese didn't perform any silly walks himself, also claiming he never was a fan of the sketch in question. Don't let that rain on your parade and watch the full sketch.
(Link: www.ad.nl, Screenshot of YouTube sketch)
No Comments »
No comments yet.