Building in Arnhem nominated for international prize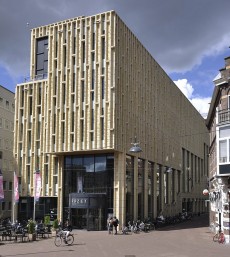 The Rozet building in Arnhem has been nominated for the RIBA International Prize of the Royal Institute of British Architects alongside 29 other buildings from around the world.
Designed by Neutelings Riedijk architects and opened by Princes Beatrix in 2013 when she was no longer queen, the Rozet is a cultural centre that houses various cultural and educational institutions such as the public library, the Volksuniversiteit and To Art Kunstuitleen. It's called Rozet because all the 'rozet' (rosette) patterns that can be found in different shapes on the building.
The Rozet won Best Building of the Year 2014, an award for Dutch architects, but it is now up against some stiff international competition, including two buildings designed by the late Zaha Hadid. The RIBA International Prize is to be awarded in December.
(Links: edition.cnn.com, www.gelderlander.nl, Photo of Rozet, Arnhem by Pauline Bergsma, some rights reserved)
1 Comment »