Growing food for Mars and the Moon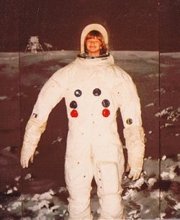 The Dutch are already involved in getting to Mars, but researchers at Wageningen University feel people need to be able to grow their own food if they ever plan on living there.
Wageningen University wants to grow vegetables in soils similar to those found on the Moon and Mars, but getting those soils is a tall order. However, NASA actually makes ground similar to that on the Moon from sand found in an Arizona desert, while Mars' crimson 'soil' is scooped from a volcano in Hawaii. The first experiments started in 2013 after the university received an order of 100 kilos of NASA's imitation 'space soil', which cost 2,000 euro.
Wieger Wamelink of Wageningen University decided to grow tomatoes, peas, cress and other plants in pots containing the simulated soil. The imitation ground wasn't big on being watered at first, but soon turned out to be good potting soil. "In the Martian soil, plants were growing fast and well. They even started to flower, something that we never anticipated," Wamelink said. The 50-day experiment was written up in the science journal PLOS One in August 2014.
The vegetables however are not necessarily safe to eat. Wamelink suggested growing other plant species such as violets to absorb the poisons. Water should be no problem as it is found as ice on both the Moon and Mars, said Wamelink. Other questions which need answers include the presence of friendly bacteria to help plant growth and what happens to plants that grow in low gravity. It's still all very theoretical and cannot be tested in actual Martian and lunar conditions.
Part of me wonder if earthlings so fond of all kinds of foods, wouldn't go bonkers from a steady diet of boring, never mind a lack of meat for some, alcohol and chocolate. The first person to open up a snack bar is going to rule the planet.
(Link: timesofindia.indiatimes.com)