New letters and photos of Mata Hari published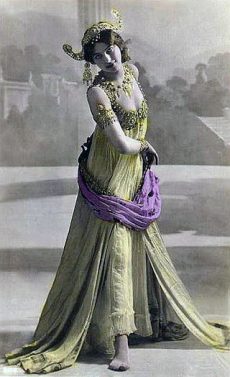 The Frisian History and Literature Centre Tresoar in Leeuwarden, Friesland have made public a gift of 48 letters and 14 photos never been seen before they received from the family of the ex-husband of famous Frisian exotic dancer, Mata Hari. The only thing Tresoar had to do in return was turn it all into a book, so that everyone could enjoy the discoveries. The book 'Don't think that I'm that bad' ('Denk niet dat ik slecht ben') by Marita Mathijsen-Verkooijen should be out at least in Dutch any day now.
One of the letters written during Mata Hari's life in Paris in 1904-1905 talked about her one day become a mother and how difficult her life was in general, while in another she talks about living in Nijmegen and having to sell her bike to be able to survive. Mata Hari's life story is a great read in itself, and these letters will certainly help historians and fans find out even more about her turbulent life. Next year in 2017, the legal documents of 1917 about her execution by a firing squad just outside Paris for being a German spy on 15 October 1917 will be made public, so stay tuned for more.
(Link: nos.nl, Photo of Mata Hari in the public domain)