'No more bike wheels stuck in tram rails'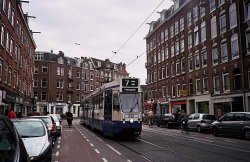 A Dutch friend once told me about when he was a student in Amsterdam and went on a date, which involved the girl hitching a ride on the back of his bicycle (on the rack) and instead of having a typically fun and possibly romantic moment of her having to hold on to him, the front wheel of his bike got stuck in a tram rail and they both fell.
SafeRails solves the well-known problem of getting your bike wheels stuck in tram rails. Invented by two engineering students, Ward Kuiters and Roderick Buijs, SafeRails is a profile made from recycled plastic that can be inserted into existing tram rails. The idea is that bike wheels cannot get stuck in the rails and the tram can ride right over the profile as if they weren't even there.
SafeRails is sustainable, durable and makes cycling safer. The guys' goal is to start with The Hague, the political centre of the country, but first they need to win The Hague Innovators Challenge 2017 and are currently in second place. You can vote, too.
In Dutch with English subtitles:
(Link: www.bright.nl, Photo of the Kinkerstraat by Wikimedia user Ilonamay, some rights reserved)
No Comments »
No comments yet.