Fashion made from waste found in the sea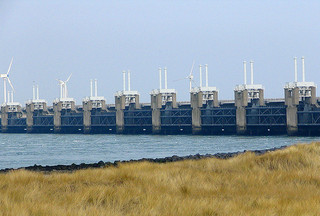 The Deltapark Neeltje Jans, a Dutch theme park near the Delta Works, is currently hosting the Healthy Seas Fashion Exhibition, featuring fashion created by Greek students from waste found in the sea.
The exhibition tells the "journey from waste to wear, the problem of ghost nets, recycling, circular economy and see what fashion design students created from the recycled fishing nets".
The Netherlands is home to the Healthy Seas organisation, and the combination of the Neeltje Jans and Delta Works gives the exhibition an additional dimension, according to them, as they also claim that 10 percent of the waste found in water is fish nets, which explains the fish net fashion.
Find out more about how it all came about (in Greek with English subtitles):

(Links: bright and healthyseas.org, Photo of Delta Works by Coanri/Rita, some rights reserved)
No Comments »
No comments yet.