More dead animals with a story in Rotterdam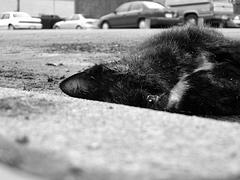 The Natural History Museum in Rotterdam has an ongoing exhibition entitled 'Dead Animals with a Story' (use the Google translate function at your own risk) and has just announced a new addition, the small beech marten that died taking down the Large Hadron Collider at CERN in Switzerland in May 2016.
Some well-known exhibits include the Dutch 'domino sparrow' that was killed indoors to avoid a disaster at the Dutch annual Domino Day where records attempts are made, as well as the 'McFlurry hedgehog' that suffocated on a discarded junk food container.
(Link: nos.nl, Photo of Dead cat by ndanger, some rights reserved)
No Comments »
No comments yet.