'Dutch girls not interested in STEM subjects'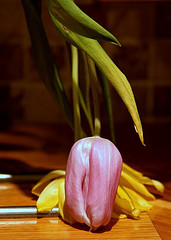 According to a survey carried out by Microsoft among 11,500 girls and women from 11 European countries including Russia, the Dutch are the most unsure of themselves when it comes to STEM subjects. Some 1,000 girls and women from the ages of 11 to 30 were interviewed at length for this survey.
More than 50% of the Dutch girls and women estimated their knowledge to be less than that of the other countries and 40% said their knowledge fell short of what it should be. Dutch girls were also quicker to claim their disinterest for STEM subjects, one year earlier than their European peers, apparently due to a lack of female role models since 60% of STEM-related teachers in the Netherlands are men. As well, some 31% of the girls talk to their mothers about STEM subjects and 33% to their fathers, while in the rest of Europe, 38% of the girls talk to their mothers and 37% talk to their fathers.
(Link: nieuws.nl, Photo of wilted tulip by Graham Keen, some rights reserved)
No Comments »
No comments yet.