Tilburg school imposes water, parents upset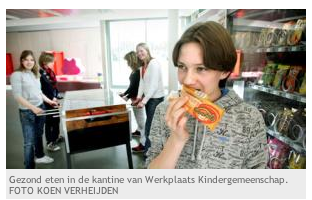 A school in Tilburg, Noord-Brabant, together with the parent-teach association (PTA), voted and agreed on letting children drink only water at school, but are now complaining about it. No energy drinks, no lemonade, no fizzy drinks: water. And if school staff feel children are eating sugary foods, they'll send them home with a note about it for the parents. One kid had brought apple juice and a piece of butter cake to school and got such a note.
Parents are upset for various reasons. They feel their kids eat well at home, one kid's parents says their kid doesn't like water and came home crying, and there's the parent that said "water is for dogs". I'd say the first two comments are socially acceptable, but the last one is silly and ignorant.
The picture I used for this story is one we used a previous story entitled 'Badly chosen picture with health article', showing a teenager eating ontbijtkoek (gingerbread full of sugar and fat) and a vending machine full of similar sugary granola bars. And the article quoted was about 'healthy eating'.
Some of the parents feel the 'ban' on juice should apply to the fat kids, not theirs – ouch. In Amsterdam's Nieuw-West district, which has a lot of obese children, there was even talk of banning fast food places close to schools a few years back. Instead, schools encourage and teach drinking water and eating proper food, and apparently that's working. Surprise: encouraging works better than shaming.
I understand parents should decide what their kids eat, that's their job. But when a parent says "water is for dogs", then something's wrong. I was brought up on juice because in 1970s we were told that was good for you, and I also hated water. Today I drink mostly water because we all know better now.
Water is not only for dogs, it's for a healthy human existence.
(Link: ad.nl)