First ever Frisian translation for Book Week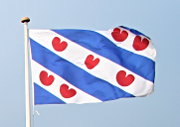 The city of Leeuwarden together with the province of Friesland will be one of the Cultural Capitals of Europe in 2018. To mark the occasion, during Book Week in March, the traditional free book handed out will be available in a Frisian translation for the very first time.
Best selling Flemish author Griet Op de Beeck will have the honours of contributing a book to Book Week, entitled 'Gezien de feiten' (roughly, 'Having seen (given) the facts' in English and 'Mei it each op de feiten' in Frisian). Dutch and Flemish authors read each other all the time, but it's television that tends to 'localise' Dutch and Flemish television shows. Fans of Dutch-language literature, which includes any kind of Dutch, is read by all without a fuss.
And a free book is a free book.
(Link: lc.nl, Photo by Rupert Ganzer, some rights reserved)