Utrecht, first Dutch Unesco City of Literature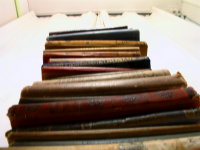 Yesterday, Utrecht was named Unesco City of Literature by the cultural branch of the United Nations in Paris, and has the honour of being the first ever Dutch city to receive this title.
Utrecht, along with many other cities around the world, is being praised for its impressive literature history, as well as its literature festivals, writers, bookshops, libraries, studies and publishers. As well, the wonderful title can be used until the end of time, which is great for city marketing.
As of 2019, the former post office on De Neude will also be the face of the new City of Literature, a 'cathedral', for books and a meeting place for all things literary. "The Netherlands is a small language area and it's not easy to get international recognition for our authors", explains Michaël Stoker, director of Utrecht's Het Literatuurhuis (Literature House). Stocker says this title will break the ice, so that worldwide people will be able to see that the Dutch have good writers and poets.
(Link: ad.nl)