First Belgian-Dutch series to hit Netflix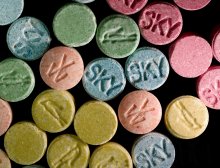 The first Belgian-Dutch co-production 'Undercover', a 10-part series, is set to hit Netflix in 2019, and it stars Anna Drijver (Dutch), Frank Lammers (Dutch), Elise Schaap (Dutch) and Tom Waes (Belgian), produced by Jan Theys (Belgian), with writer and showrunner Nico Moolenaar (Dutch) and directed by Eshref Reybrouck (Belgian) and Frank Devos (Belgian).
For those of you who have watched the Netflix series 'Narcos', an American series about the cocaine trade in Colombia, consider this its European ecstasy cousin, but then set in the Netherlands and Belgium. Not a week goes by in the Netherlands and possibly Belgium without a news item about drums of chemicals used to make ecstasy (aka MDMA) found dumped in woods in the province of Noord-Brabant, so someone might as well make a series about it.
"I found it incredible to learn that the Netherlands and Belgium are such a huge part of the global drug trafficking network", said producer Jan Theys. As for cocaine, the Netherlands remains the 'Colombia of Western Europe' and used to be the best and biggest cocaine producing country in the world until WWII.
(Link: broadwayworld.com, Photo: DEA)
No Comments »
No comments yet.