Free classical music all year round in Rotterdam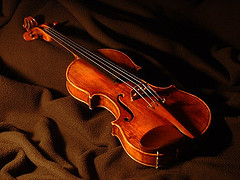 To celebrate its 100 year anniversary, the Rotterdam Philharmonic Orchestra is letting it rain free concert tickets in Rotterdam.
Tonight they kick off a series of free concerts that thousands of Rotterdam residents were able to get free tickets for via a website. For every concert, 54 are reserved for residents of specific neighbourhoods, for a total of 5,400 tickets. The RPO will be playing free concerts all year for the entire city, the last of which will be on 23 December for downtown Rotterdam residents.
The concerts will take place in concert hall De Doelen, the second busiest hall in the country after Amsterdam's Concertgebouw.
(Link: rijnmond.nl, Photo of Carlo Antonio Testore violin, Milan, 1738 by Jason Hollinger, some rights reserved)
No Comments »
No comments yet.