Dutch baker wins World Master Baker award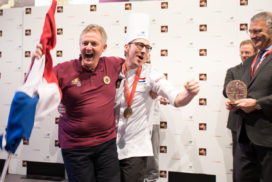 Peter Bienefelt, owner of the bakery Atelier du Pain in Barendrecht, recently won the World Master Baker award at the Bakery Masters tournament in Paris, the highest possible award in the world of baking.
Not unlike a top athlete, Bienefelt even hired a coach, Hans Som, who said that Bienefelt is different than other bakers, something that could have gone either way. Baking for eight hours straight is also not unlike training like an athlete, according to them both.
Bread that Bienefelt planned to present needed to have characteristics such as crunchy crust and good flavour. He also went for the 'wow factor' by baking bread using pure water from the Eastern Scheldt estuary, sea algae, squid ink, currants and olives, as well as little salt, which is quite trendy these days, he adds.
(Link: deondernemer.nl, Photo: bakkerswereld.nl)
No Comments »
No comments yet.