Country's first 5G venue to be in Amsterdam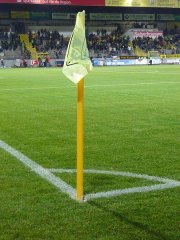 At the start of the new 2018-2019 football season this summer, the Amsterdam ArenA will officially be renamed the Johan Cruijff Arena (no big A) and become the first stadium in the Netherlands to offer 5G technology for devices. Together with the Allianz Arena in Munich, which held the World Cup in 2006, they will be the first 5G stadiums in the world.
Many countries will start using 5G for general use in 2020, but not the Netherlands. For now, the only Dutch folks using 5G is the Ministry of Defence to chase down terrorists and cybercriminals. The Netherlands will be a bit late to the party, making 5G available for everyone as of 2023 and possibly even 2026. However, football fans will be able to enjoy the new tech this summer.
(Link: parool.nl, Photo of flag by Wikimedia user Carolus Ludovicus, some rights reserved)
No Comments »
No comments yet.