Cool but dry King's Day 2018
King's Day was cool yet dry at least in Amsterdam, and the dry part was the key since it is about being outdoors, whether you're drinking or bargain hunting, or going for both.
Since every year we bring you pictures of anyone and anything orange, this year we went for what else we could we take pictures of for a change.
Some people had private parties, like Josée en Kees did. Or it was a birthday party admidst the rest, nobody knows. The photo is amusing as 'feest' ('party', pronounced 'faist') rhymes with 'Kees' ('Case', a man's name).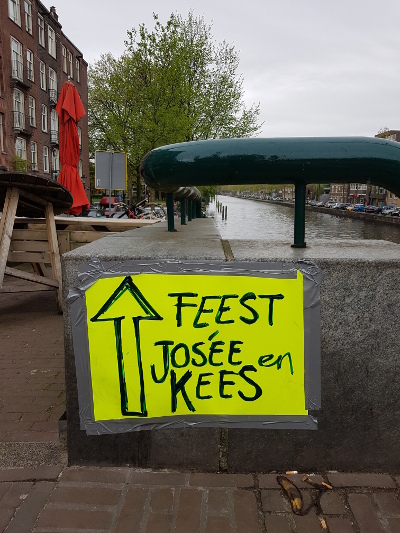 The food trucks and stalls were abundant this year, many of which were from neighbouring countries who got the memo a while back that The Netherlands is the place to be on King's Day. I saw a lot of espresso, but Vietnamese spring roll stands stood out. Poffertjes, a Dutch classic, were also on offer.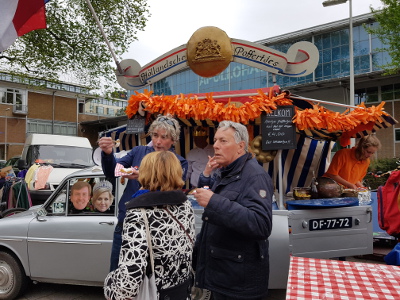 The best part of the day is when people want to pack it up and stop selling their old stuff and just put it next to the bins for collection. Some parts of town use let people dump their stuff in containers and yes, dumpster diving is socially acceptable at that point. If you look at this picture and think 'there's a perfectly good children's bike in the trash', you'd be right. The main reason we spend King's Day in well-to-do neighbourhoods is because they leave the best stuff behind.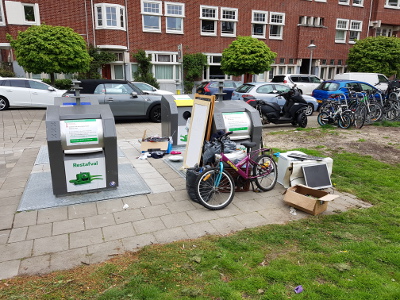 Kudoz to the city of Amsterdam for providing quite a lot of free bathrooms women can use, as opposed to only urinals – it's about damn time. However, in the posh part of town, 'women and children' could take 'royal dumps' sponsored by a good cause, although surely not for free. Feel free to wonder why men were excluded and then tell yourself you're discussing bodily functions on King's Day.