Dutch app helps you sort your recycling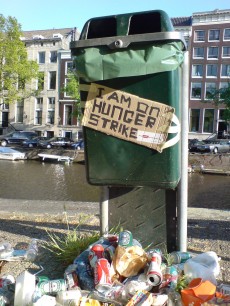 On 23 May, Dutch company Sitio IT launched the free phone app EcoScan for Android and iOS that helps you figure out in what recycling bin you need to sort things you're throwing out.
In the Netherlands, there are bins for paper, plastic, glass and a few more that makes life complicated, and every municipality seems to have different bins as well. And you don't want to be that person who puts an old lamp bulb in with the glass and forces someone somewhere to 'disinfect' your mistake. Sitio IT claim that there are 10 to 15 different bins for things, and this prompted developer Rick Buiten to comp up with an app for doing the right thing easier.
By using a photo scan, EcoScan can even tell you that you'd better bring certain things to the thrift shop, as they are not meant for any bins. Although I very much like the idea, I'm going to assume it's still being beta tested or I'm really bad at scanning, as I've just tried it plastic, paper and glass, and it didn't recognised any of them. And it's only available in Dutch, but it's point and click.
(Link: bright.nl)
No Comments »
No comments yet.