Dutchman wins Welsh bookshop in raffle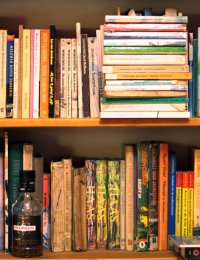 Not only will Cies-Jan van Heerden, a Dutchman originally from Wijk bij Duurstede, Utrecht get the keys from the second-hand Welsh bookshop he recently won in a raffle, but the BBC has also decided to make a film about it.
The BBC will be there to film the hand-over of Bookends in Cardigan, Wales where Van Heerden now lives from retiring owner Paul Morris to both Van Heerden and his new business partner, Sveinejorn Stefan Einarsson from Iceland who has moved to Wales to help run the business. Both new owners were online friends for eight or nine years and only recently met face to face, which can only make for an interesting story.
And in keeping with always mentioning the price of things, Van Heerden only had to buy some 20 euro worth of books to be in the running to win the whole shop.
(Link: rtvutrecht.nl)
No Comments »
No comments yet.