Van Gogh's revolver under the hammer in Paris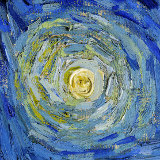 It has been announced today in Paris that the revolver with which Vincent Van Gogh is believed to have shot himself will be auctioned off on June 19. Auction Art calls it "the most famous weapon in the history of art", the 7 mm Lefaucheux revolver is expected to fetch upwards of 60,000 euro when it is sold on June 19.
"Discovered by a farmer in 1965 in the same field where the troubled Dutch painter is thought to have fatally wounded himself 75 years before, the gun has already been exhibited at the Van Gogh Museum in Amsterdam."
Experts say that Van Gogh shot himself near the village of Auvers-sur-Oise north of Paris where he spent the last few months of his life in 1890. The revolver belonged to the owner of the inn where he was staying. Van Gogh died 36 hours after he wounded himself in the inn and in the dark.
There are still many discussions about whether he actually shot himself or that maybe a local boy shot him inadvertently.
(Link: phys.org)