Swimmer Marcel Schouten wins big lake crossing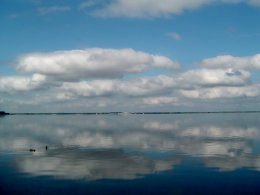 On 27 July Dutch swimmer Marcel Schouten took first place at the 65th 'Traversé internationale du lac Saint-Jean' ('International crossing of Lake St. Jean'), a big lake and area of the Province of Quebec in Canada. It's where a lot of wild blueberries come from and a lot of classic Quebec recipes as well.
The Christopher Deegan of Australia took second place, and third place was nabbed by Matias Diaz Hernandez of Argentina. On his Twitter feed, Schouten was congratulated for 'rocking at the 5th stage of the FINA/HOSA Marathon Swim Series in Lac St. Jean' by FINA, the Fédération internationale de natation ('International Swimming Federation'). Last year's winner, Edoardo Stochino of Italy, came in fourth.
My family saw this news go by and thought it would be good for us, so here it is.
(Link: ici.radio-canada.ca, Photo looking across the nearby Wolderwijd from Harderwijk to Zeewolde, Flevoland, by Sjaak Kempe, some rights reserved)