Tom Scott visits Waterloopbos, a former open air laboratory to study the way water flows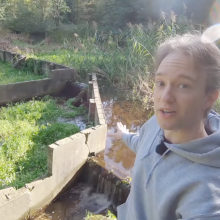 YouTuber Tom Scott visited the Waterloopbos in Marknesse in the Noordoostpolder and had a little chat with Leo van Rijn, a specialist in modelling the flow of watercourses.
As wiki says: "The Waterloopbos [literally 'Watercourse Forest'] was the property of Delft Hydraulics […]. In 35 large scale models of sea arms and harbours, such as the Deltaworks and the harbour of Lagos, tests were performed in order to learn how to predict the way large hydraulic systems influence the course of water."
The laboratory closed in 1995 and the forest is now owned by Natuurmonumenten and is open to visitors from sunrise to sunset (Dutch). It is part of the Voorsterbos, the oldest forest in Flevoland, a province that was entirely reclaimed from the water.
Read more about Waterloopbos at Holland.com.
(Photo: screen capture of a video by Tom Scott / Youtube)
No Comments »
No comments yet.