Dutch book about 'Depressing Destinations' out in January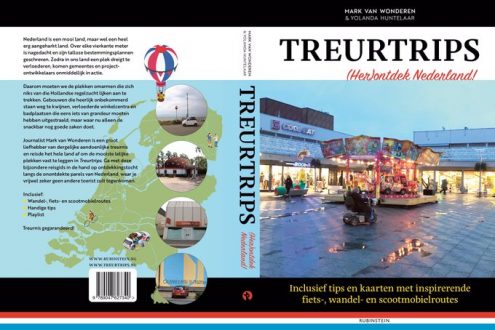 Publishing his second book roughly entitled 'Depressing Destinations' ('Treurtrips'), journalist and photographer Mark van Wonderen decided to show the Dutch what a good chunk of their country really looks like.
"The Netherlands is a beautiful country that is neatly divided up. Ever square metre has been carefully arranged and countless zoning plans have been drawn up. When a place risks falling into disrepair, municipalities and project jump at the chance to fix the situation."
Van Wonderen will show you half-abandoned malls, tacky buildings and lots of concrete in the wrong place: the dark side of quaint Dutch design is 'treurnis' (sad, gloomy and slowly falling apart). And he thinks it's beautiful. In 2018, he wrote 'Chin. Ind. Spec. Rest., a disappearing Dutch phenomenon' about the last 1097 Chinese Indonesian restaurants in the country, the first four runs of which have completely sold out.
We'll be at the launch!
(Photo of cover by Mark van Wonderen)
No Comments »
No comments yet.