Why do old windmills turn left and new ones turn right?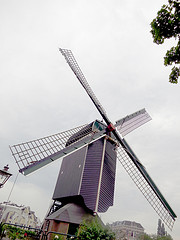 Every once in a while it's good to ask ourselves some deep questions, and this one popped up as news recently. Why do old Dutch windmills turn left and newer ones turn right? It has nothing to do with the wind or with most millers being right-handed – let's get that out of the way now.
The material that older blades are made from provide a more precise explanation. The two rods that form a cross to which the blades are attached are made from a tree trunk. As it was growing and needed sun to do so, the trunk would rotate to the right because the sun rises in the East, then moves to the South and sets in the West, and the tree would follow.
By turning the blades to the left, counter-clockwise, it would turn avoid splintering the wood. The wood needs to be super solid and ideally be of high quality, which could sometimes come from trees that grow very straight in forests, but not all the time.
Taking physics into account, there is no reason why modern-day windmills should have a preferred rotation direction. For example, wind turbines are manufactured in factories that use the same type and angle of blades, making them standardised and so they turn the same way – to the right. They could all be made to turn left if for some reason the world decided to do so.
Old Dutch windmills were not standardised and unique, which makes them nice to visit.
(Link: nu.nl)