Nijmegen has dildos glued on mailboxes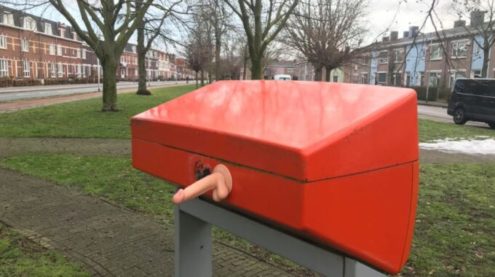 Nobody in Nijmegen, Gelderland seems to be fazed by someone who has been going around gluing various dildos to mailboxes, another combination of words that we never thought we'd use in our lifetime. It's bad behaviour and funny at the same time.
Apparently, the mailboxes weren't damaged, but the police was told about the dildos by postal workers. The Dutch call the person doing this a 'dildo-plakker' ('dildo-gluer') and nobody knows anything about them.
And why are they doing this? Nobody knows. Someone removed the black dildo in the above picture.
The 'dildo-gluer' is still around and has not been caught.
We will look back on this and realise the world has gone nuts, pardon the weak pun.
(Link and photo: indebuurt.nl)
No Comments »
No comments yet.