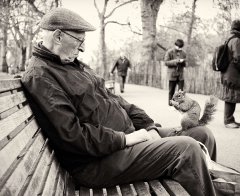 Mover Donny Zwennes from The Hague offers a very special moving service to the elderly with dementia: he makes sure their new surroundings are exactly the same as they were in their home. Some of his clients have no idea that they've moved, and that's exactly what Zwennes wants to offer. He calls it 'duplicating'.
Zwennes takes pictures and notes all the things that need to be moved and where they were. Once he gets to the nursing home, he ignores the best place to put people's belongings and puts things back exactly as they were, which is excellent for dementia sufferers. He also listens to their stories about that one lamp and that painting above the bed, allowing him to know what objects clients are most attached to.
According to the AD newspaper, the country's first Alzheimer's café was opened in The Hague, a place where Zwennes' father handled the sound installation. It is also where he learnt about the specific problems of dementia sufferers and their families. Zwennes quickly realised that moving the elderly with dementia was a specific problem as well as a niche market. To this day, he's the only mover in the country that offers such a personalised service.
(Link: www.ad.nl, Photo by Frank Mayne, some rights reserved)