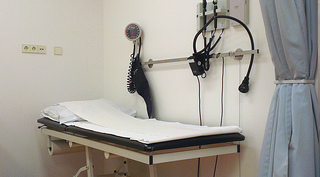 Needing an amputation, Leo Bonten wanted to keep his right leg after the operation because he wanted to make a lamp out of it, claiming it would help him deal with his loss. Ethical clinician Erwin Kompanje and pathologist Frank van de Goot have a discussion about it with Bonten in attendance (see video).
The hospital said 'no' to Bonten keeping his right leg, but the law actually has nothing to say about it, only what to do with corpses. Kompanje was surprised at the hospital's answer, which was entirely baseless. "Your body is your property, unless you give it away," he explains. The ethical clinician compares it to leaving the hair from your haircut on the floor at the salon: you give permission to have it sweeped up by leaving it there, while you could ask for it and bring it with you.
Van de Goot, who prepared the leg for amputation, says social safety issues must be taken into account like hygiene and infection, which Bonten agrees with as well, although not an issue in his case. Van de Goot agrees with Kompanje that Bonten could keep his leg. He tells of people keeping their baby teeth in a box or gallstones they have had removed, so why not a leg.
However, Bonten was told that he could only get his amputated leg back after it had been buried to follow the letter of the law, which was costly never mind a bit ridiculous. Bonten refused and was initially refused the amputation by the hospital. It was eventually sorted out, but Bonten had to fight for a right he already had to keep his own leg and make the lamp he wanted. "The hospital didn't have a leg to stand on," says Bonten jokingly.
The big unanswered question is, what constitutes a corpse, because this kind a situation could very well happen again and the law apparently has no clear answer.
(In Dutch)

(Link: www.improbable.com)