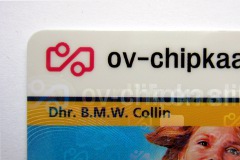 Michiel Jonker of Arnhem is a big defender of privacy. He is going to court to fight for his right to use an anonymised public transport chip card used for trams, subways, buses, and trolleys if you're in Arnhem—a card that can also be used for trains.
One of the many issues is that only people who agree to give up their personal details as well as all their travel information can use a Dutch Rail discount on their card, giving them, in one instance, a 40% discount a year for an annual fee that I also pay, that keeps going up and that I don't remember what it is.
Jonker uses an anonymised card, but it's also not at all anonymous. "When you top up your card, the top-up doesn't go onto your card, it goes to a sort of bank account owned by TransLink Systems [the company that makes the cards—Orangemaster]. The moment you top up your card, the company registers where and when you've done that."
Jonker claims that the Dutch Data Protection Authority is too easily convinced by the arguments of Dutch Rail for registering information such as sex, email address and other personal details. Dutch Rail says that registering such information is necessary to combat fraud and ensure security, and yes, if a company can prove that such details are necessary to function then Europe's General Data Protection Regulation (GDPR) will back them up. However, if that cannot be proven, then Jonker has a point and Dutch Rail will have a problem.
Regardless, only travellers with one of the many non-anonymous types of cards can get travel discounts. Jonker explains that for decades, train staff checked paper tickets and that worked just fine.
Watch the video below in Dutch:
(Link: Omroep Gelderland; video: YouTube / Omroep Gelderland)