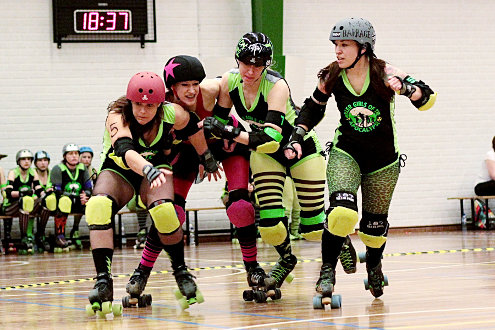 Last Saturday the entire 24 Oranges team (yes, all two of us!) were at the first official roller derby match ('bout' in derby jargon) of the Netherlands, held in Amsterdam between the Amsterdam Derby Dames and the Roller Girls of the Apocalypse (Kaiserslautern, Germany).
Roller derby is a full contact sport on wheels in which designated scorers need to pass a pack of blockers for points. We covered the basics before in an article about the first unofficial match ('scrimmage') last year.
Oohs and aahs ensued in the packed and beautiful Apollohal (on regular days a basketball venue) whenever Amsterdam's Abs of Steel stepped on the floor, as even those among the visitors who had never been to a bout saw how she tossed unwilling opponents aside like rag dolls. You can see her earn that Most Valuable Player award in this video by Paul Siegman:
Despite heavy resistance from the German women, the Amsterdam Derby Dames kept adding to an early lead and in the end won the match 105 – 69. Our very own Orangemaster could not compete because of a broken leg she got in a practice match in Antwerp, but this did give Nasty Moves (her derby name) a chance to keep people entertained with music and informed on Twitter of the score.
Currently there are 12 roller derby leagues in the country. The women-run sport was re-started and re-imagined around 2001 in Texas, USA, and has made great strides ever since in that country, and is slowly and steadily growing in popularity in the rest of the world.
As always I will be adding a photo impression to our Flickr account later on (see the sidebar).
Update: the photos have been uploaded to Flickr.
(Video: Youtube / Paul Siegman)