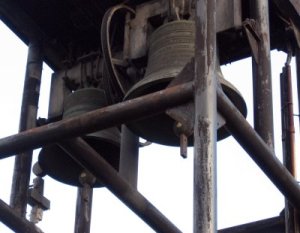 A huge 23 tonne bell, to be the largest in Europe, will be cast by Eijsbouts in Asten, North Brabant for the Olympic Games in London this summer. The British media is miffed because the contract was supposed to be handled by the British company Whitechapel, but they subcontracted it to Eijsbouts yesterday. The reason given was "the bell was sent overseas because it [Whitechapel] lacked the facilities to cast it here." To me this reads as 'we couldn't do the job, but we wanted to score the contract' and sounds weird because another British company, Taylor's, claims it could have done the job in the UK. And part of the London 2012 specifications was insisting that the bell is cast in this country.
So why did the Dutch get the order? Enter complaints about losing work in Britain and about foreigners making the Brits look bad. Then again, the organisers are the same brilliant people who wanted to have The Who's deceased drummer Keith Moon play at the opening ceremonies. He died way back in 1978. I can only deduce that subcontracting was cheaper, cheap enough to ignore specifications.
We know the bell could have been made in the UK by Taylor's, the largest bell foundry in the world, but Eijsbouts is making it, a company that also claims to be the largest bell foundry in the world.
(Links: nos.nl, www.mirror.co.uk, www.loughboroughecho.net)