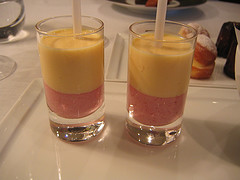 Dutch documentary 'Meet The Fokkens' (in Dutch, 'Ouwehoeren', 2011) was recently sold to the US while showcased at the Cannes Film Festival. It will hit movie theatres in New York City on 8 August and can also be viewed during the 25th International Documentary Film Festival Amsterdam this November.
'Ouwehoeren', means both 'old whores', 'whore' being a neutral word here, and 'chewing the fat', as in talking about whatever, a bit like old people do. Fokkens is a proper Dutch last name, but coincidentally sounds dirty in English, surely a nod to 2004 movie title Meet the Fockers.
In the trailer below one of the sisters is putting mountains of whipped creamed on a thick, yellow alcoholic beverage, called 'advocaat' (the yellow stuff above), which is often associated with old people.
Twin sisters Louise and Martine Fokkens have been working in the red light district of Amsterdam for 50 years. Despite many setbacks and a great deal of negativity from those outside the world of prostitution, these strong, optimistic and humorous women have managed to survive all those years with verve […] The twins tell amusing tales of how they came to be in this line of work, how they eventually went into business for themselves, and how relationships in the world of prostitution have changed over the years. Louise stopped two years ago, but Martine is still working – she also wants to quit, but her financial situation won't allow for it, she claims.
(Links: www.shownieuws.tv, www.idfa.nl, Photo of Avocaat drinks by Ulterior Epicure, some rights reserved)