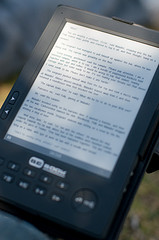 Dutch e-reader manufacturer Endless Ideas recently announced an E Ink-based 6-inch book reader with a touch screen and either Wifi or G3 connectivity. The BeBook 2 was presented last week at CeBit, the largest computer exhibition in the world which takes place yearly in Hanover, Germany. Bright reports (Dutch) that the BeBook 2 will be sold starting this summer, price as yet unknown. The current BeBook sells for little over 300 euro.
The new BeBook also sports an RSS function, so that you can use the device to keep up on your news. E Ink is a technology that produces paper-like screens. These screens only need electricity to change contents: unlike say LCD screens which need juice to keep the picture up. Like paper E Ink is also reflective, which means it needs a natural light source to be readable. If you've never seen one, I suggest you go to your local Selexyz, Borders, or what have you where they're likely to sell e-readers and ask to have one demonstrated.
Photo of a first generation BeBook in dappled shade by Andrew Kneebone, some rights reserved. The shepherd boy is in the almond grove just around the corner.