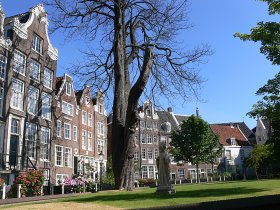 Apartment Therapy visited the 70 square metre home of American radio maker Ruth at the beguinage in Amsterdam. The complex, simply called Begijnhof (Dutch for beguinage), lies smack in the middle of the city and is open to the public. Located just off one of the busiest streets in the country, the Kalverstraat, it's a sea of calm on the inside.
A begijnhof, or beguinage, is a secluded garden around which devout women lived a life dedicated to their faith, outside the formal structure of the church. Unlike nuns, beguines took no vows and kept any property they might have. There are dozens of former beguinages in the Low Countries. Although the houses were typically small, beguinages are still sought-after property because of their court-yard lay-out.
De Begijnhof is no longer home to beguines, but still only women live there. Should you wish to do the touristy thing, and should you be able to find De Begijnhof, access is free, and the beguinage has a couple of trumps up its sleeve other than just being there and being unique. It sports one of the two remaining wooden houses in the center of Amsterdam (1470). The panels of the pulpit of the English Church were made by Piet Mondriaan, and there's a second, Catholic church hidden somewhere behind the gables.